"It's Like Running Your Own High Performance Self-Directed Hedge Fund"
StockJumpers premier Wealth Acceleration strategy is called PRO JUMPERS and trades what we call "Jumpers". These are catalyst events such as stocks about to release quarterly earnings, that jump (up or down) in price 5-20% within 24 hours after an announcement. Using a proprietary predictive intelligence technology the stock's trajectory is forecast, and a position entered prior to the event, (often just before market close), and then exited with-in 24 hours of the "jump". The strategy is able to profit by trading the delta in price post release. 
Trades are both long and short and the goal is to cut losers quickly while running winners to maximize profits. Capital is back into cash and recycled into the next event. The strategy has been trading successfully since 2015. 
The addition of automated trading software was added in the Fall of 2018 on a Beta test basis, and went live in Spring of 2019, to give members the capability of using a Trade Assist capability. Signals are broadcast via a software bridge (called the Auto-Trade Portal) that allow members to mirror-trade the Strategy Manager's account and accept or reject trades based on their personal risk settings. PRO JUMPERS I is the subscription name for manual trading. PRO JUMPERS II is the subscription that operates with the Auto-Trade Portal and offers Trade Assist function. 
We are targeting returns of 250-300% per year for this high-reward high-risk wealth acceleration strategy.
Performance has been stellar based on the 'Jump Zone' calculation. Each individual traders returns will vary based on their real-time entry and exits on positions. The performance spreadsheets below reflect the best and worst case scenarios of a jump trade – taking into account the highs and lows of the move over a 24 hour period. It is therefore hypothetical. LIVE trading results from our real money model account will be posted beginning in July 2019.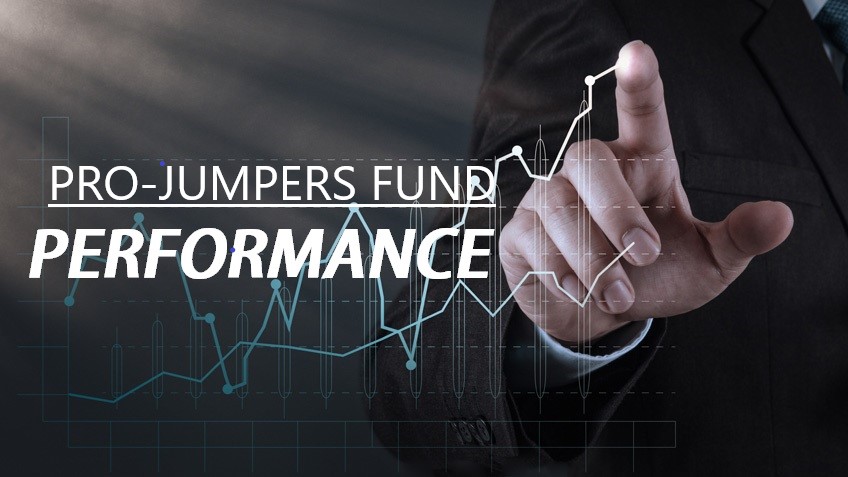 STRATEGY NAME: PRO JUMPERS I & II
ACCOUNT MINIMUM: 35K
START DATE:  2015
POSITION TYPES:  LONG AND SHORT
EVENTS TRADED:  EARNINGS CATALYST
PARTICIPANT LEVEL:  SOPHISTICATED INVESTOR
RISK LEVEL:  HIGH
AUTO-TRADE PORTAL: YES
RETIREMENT ACCOUNTS: NO
Investors can trade these Jump Reports manually or go on auto-pilot with the new Trade Assist program (auto-trade portal / software bridge) linked to their brokerage account. A Jump Report will be published a few hours before the release – and members of this strategy have the ability to select events they want to trade, as well as adjust their personal risk management settings. For more details on the Auto-Trade Portal. To view events calendar and access individual Jump Reports click here.
All members operate as self-directed traders and can trade in any brokerage account. Those that choose to use Trade Assist with the Auto-Trade Portal must use a StockJumpers affiliated brokerage house, that can connect to the software bridge. Note: (Pattern Day Trader) The frequency of the trades (4 or more) per week requires enough capital so you are not flagged as a Pattern Day Trader and your trades restricted .  The suggested minimum capital is $35,000 but $50,000 would avoid this problem and be a better choice.
This strategy is high risk and trades volatile catalyst events. Positions will often need to be exited in the after market session, where there is lower volume and lower liquidity. Risk management is required. It is important to understand all risks before trading and this strategy especially.  For details see all "Risk Factors" in the Terms of Use Agreement and the legal page.