Trade Plan: BUY (at market close)
Here is what happened:
(click to expand)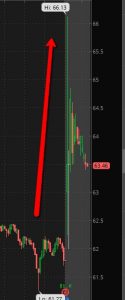 Commentary: Another interesting twist – with the stock trade temporarily halted. Here is how it went down for those of you that missed the fun. The jump report said to go long… we entered our trade end of day per the data. (The price had dropped throughout the day as low as 4% down at one point. The market was assuming this was going to turn out to be a drop vs a pop) We didn't. We we were highly confident in our intelligence  data and said so in the report – that FSLR was going to announce good numbers…. They did. And it popped.
First Solar, Inc. (NASDAQ: FSLR) reported its fourth quarter financial results after the markets closed on Tuesday. The company had $1.60 in earnings per share (EPS) on $942 million in revenue compared to consensus estimates from Thomson Reuters that called for $0.78 in EPS on $929.01 million in revenue. 

What was wierd was they halted trading (probably anticipating volatility or someone was front ending things… whatever the reason they announced and the market had to wait till 4:35 EST before trading resumed. Of course when it did it shot up right away as you can see in the chart. The profit here wasn't anything huge like it was yesterday on FIT – however it was a clean call and a 7% + win.
We did not even consider options on this one, and are pleased that we went against the grain and got our nickel.
Jump Zone Profit: 7% (so far)