Trade Plan: SELL (at market close)
Here is what happened:
(click to expand)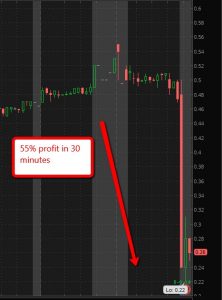 Commentary: Jaw dropping results. The best jump this year. yielding a 55% net profit in about 30 minutes… Everyone in the trade room watched the drama unfold. Our data was solid even as we went against 90% of analysts views. They beat on the numbers (.14 loss vs. .17) – but the stock dropped big time anyway on lower sales, supplier concerns and news they are looking to restructure or sell the business. Big trouble = big drop. Lost half the value of the company in a half hour post release. StockJumpers trajectory analysis tools really worked on this one. We get it right the majority of the time, but even this performance stunned us. Most members shorted this dog at a price of .50-.51 and watched it fall to a low of .22 in the after market session. A whopping jump zone of 55%. Good trade everyone.
Here is the LIVE recording from the Trade Room session:   [embedyt] http://www.youtube.com/watch?v=KE7EYdhBoB8[/embedyt]
We did not purchase PUTS on this one, though we are regretting it a bit now.
Jump Zone Profit: 56%