Trade Plan: BUY (Before Market Close)
Here is what happened:
(click to expand)
Commentary: It popped up 6% and then slowly kept going. What we wrote in the Jump Report;  "StockJumpers trajectory analysis – reveals surprise good news for this depressed stock. Market sentiment is positive and we see a pop today from buying action before and after the release. We are long for the event."
We don'f always find deals on options and though this one didn't totally fit our Options strategy (its borderline) we did some light options buying as an experiment. The market was a bit surprised by the move and so the CALLS were certainly better priced than PUTS. We did an April 16 call <31 strike>. We have not closed it yet, and will keep you posted. Expecting it to be a nice pop though.
Jump Zone Profit: 17.8%
WATCH: Live video of this trade in the trading room and how it unfolded
[embedyt] http://www.youtube.com/watch?v=n31QT_PTd-0[/embedyt]
UPDATE MOVE: 3-8-16 The Jump Zone move kept on rolling… to a high today of 33.19 creating a final Jump Zone profit of 17.8 .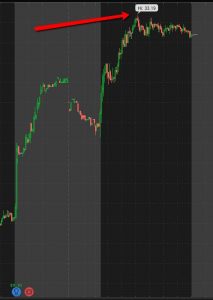 The bigger story was our option play… which did a whopping 439% profit!  Here is that chart…