Trade Plan: BUY before market close.
Link to the Jump Report
Here is what happened:
(click to expand)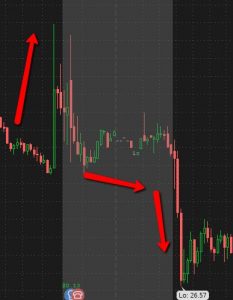 Commentary: Interesting. Based on our data we wrote the following analysis in our report;
StockJumpers trajectory analysis – reveals a surprise up move for this former high flyer, though the last few
quarters have been dismal. We are long for an initial bump on the news which may be due to a new
forward strategy announcement vs the numbers and potential M&A rumors.
Click on the chart and look closely. It popped up 7% about 40 minutes before close (surprise) based on reports of a new strategy announcement and possible sale. If you went in and took profit early, you didi ok. If you stayed in til the next day.. you got slaughtered.  We count this as a win but I don't think the auto-traders got their trade in on time
Jump Zone Profit: 7%