Weekly Recap: 1 Winner – 2 Losers.  Net Gain 0%.
Three jumps this week. YHOO, QCOM and P.
What a crazy set of trades this week. Talk about making you hold your breath, hold on, and test the data. This week was a rollercoaster. We had a marginal loss on YHOO, then we had a total bomb on QCOM, but we did save the best for last, well more like the crazist one! P lived up to the hype… and wow paid off!
Here is a recap of what happened…
JUMP 1
YHOO (Yahoo!, Inc) was the first Jump of the Week. Here is what happened….
Our data on YHOO suggested this was going to be a slow riser and it did the opposite, it took off down out of the gate but did not trigger our stop, and slowly started its climb back but not enough to make a solid comeback. This one ended up with about a 1.5% loss for us.
StockJumpers forecast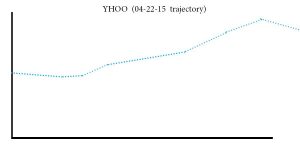 What Really Happened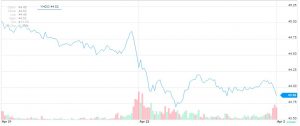 JUMP 2
The second jump of the week was Qualcomm Inc. (QCOM) and we got an UP play. QCOM was entering this earnings release following 3 quarters of big losers. QCOM reported a solid gain in some areas, but the negative reaction from possible company restructuring and missing the mark with Samsung seem to lead to negative market reaction and our stop was hit. The climb back out was OK but never returned us to where we were.
StockJumpers Forecast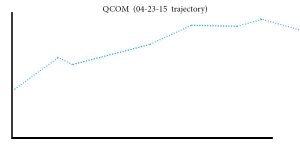 Here is how it played out…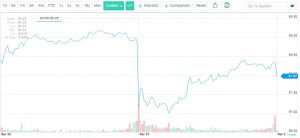 JUMP 3
The final jump was Pandora Media Inc. [P]. Pandora, though a perfect call (trajectory wise) this was a very difficult trade. You could have made money shorting it on the initial drop (which was our original call) but we felt strongly the optimum trade was to go long after the drop. Some members did well on this trade while others stopped out quickly or their timing was messed up. P was the one where you have to sit back, not touch the computer, let it unfold first and time your entry right, and trust the data. Easier said than done of course.
Our 24 hour trajectory showed a significant  down move immediately following the release and then an upswing. If you went short – you got your 5% first and then the move was long. We suggested a buy after the dip but this was a whipsaw unless you timed your entry right. Regardless, the data was correct even though only a handful of traders were able to follow make profit on this one.
StockJumpers Forecast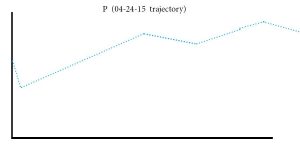 What Really Happened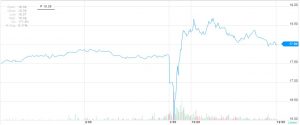 This was a bummer week and certainly not a good showcase for StockJumpers even though we personally managed to eek out.5% in the profit zone, but overall we missed the mark.
The good news is we get to do all over again next week and will lick our wounds over the weekend!