Weekly Recap: 2 Winners – 1 Loser.  Net Gain 7%.
Three jumps this week. GBX, PIR and RT.
Surprisingly GBX and RT were the winners and we got stopped out on PIR which we called as short based on what we anticipated the reaction to their lower profits. Zap…. we were wrong on that one. It was a bomb. So using our standard 3% SL – that one was th loser of the bunch. And it was too bad because the Jump Zone exceeded 12%.
GBX was a slow but solid 5% and RT was as well, but it took till the following day to pick up steam due to relatively low volume and it was a bit overbought earlier in the week in anticipation of the release.
Here is a recap of what happened…

JUMP 1
GBX (The Greenbrier Companies, Inc) was the first Jump of the Week. Here is what happened….
StockJumpers forecast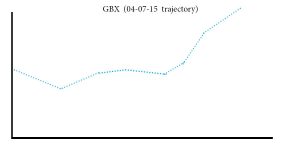 What Really Happened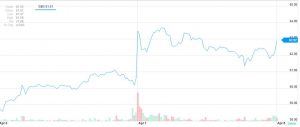 We banked our 5% gain (but barely).
JUMP 2
The second jump of the week was Pier 1 (PIR) and we got a Sell signal and reported our forecast in the Jump Report issued the day before. This was a surprise as the profit numbers were 22% off, but the company increased dividends and the market sentiment was positive . This was a true bomb on our part and thus a miss.
Here is how it played out…
StockJumpers forecast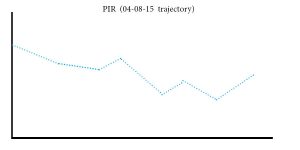 What Really Happened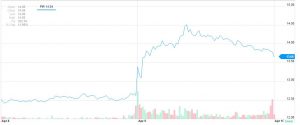 Bomb! This is where having a stop of 3% paid off.
JUMP 3
The final jump was Ruby Tuesday which was low volume, and a slow rise – but ended up with a respectable 6% gain.
StockJumpers Forecast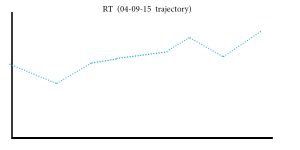 What Really Happened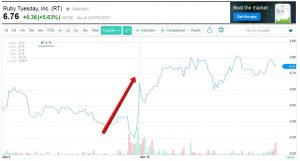 Factoring in the 3% loser with 2 – 5% gainers netted up 7% for the week . It was OK, but nothing to write home about. Not like last week or the week prior.
Let's see how next weeks jumps perform!