4 Winners 2 losers – (one of our winners was a tough trade to make pay out. Overall it was a difficult trading week as earnings season winds down and the picks of litter were less. And yes, we did end up with a few dogs. Here is how it all went down this week.
Jump 1
URBN 10.15% Hit  (probably our better play this week. We has a solid gain right out of the gate and took profit. The price dropped fast after and though we could have shorted, the data really didnt support a 2 trade play, so we smiled on this one and let the rest go by the waste-side.
What we reported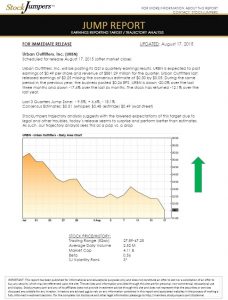 What really happened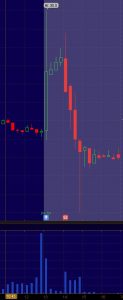 Jump 2
HD 3.43% Jump Zone Miss – if we closed out auto trade at open ( 122 ) it would have been a 1.9% miss. We didnt lose much on our auto-trade here… it just wasn't really worth the work.  We expected because it was overbought to drop bigger.  Had we let this be a pue mechanical trade we would have closed the position at 118 on Friday, for a gain. To be fair though, we consider this one a miss.
What we reported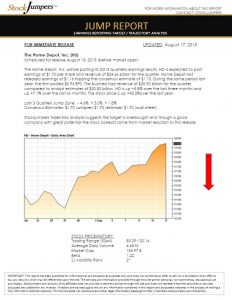 What really happened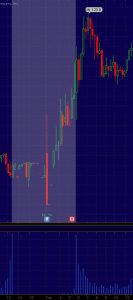 Jump 3 
HRL 1% jump zone miss – this was a trade that did not hit stops and was a whimpy trade too. Another bad pick of the litter. It went up at close 3.2% and slowly fell to 1 % profit the next morning. We closed out at a small loss – A miss for sure.
What we reported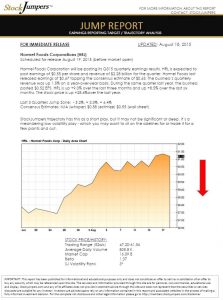 What really happened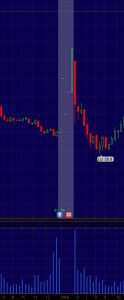 Jump 4
NTAP 12.2% miss. Bomb, even though we knew there was an upside to this, the expectation was an initial down move. If you shorted it out of the box.. you hit your stop. A smart trader would go back in long and ride it, but then we were not smart on this one either, even though the data did support a long play.
What we reported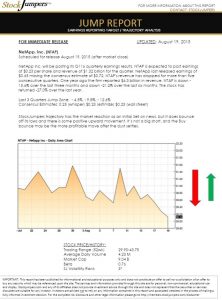 What really happened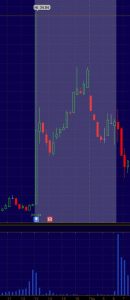 Jump 5
HPQ 7.61% hit – this was down at first in aftermarket a few % and we were not really comfotable – even though our data suggested this was a good BUY.  We let it roll and the next morning it did as forecast and popped  to hit our profit target.
What we reported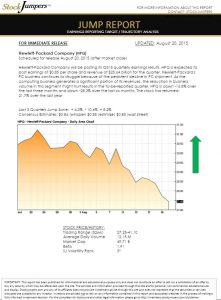 What really happened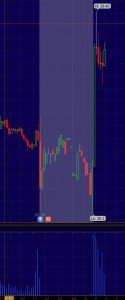 Jump 6 
CRM  5% hit  (sorta) 
CRM was our tough – weird trade of the week. Not our best pick. If you entered the trade at the time you got the Jump Report you hit your 5% profit target the after market session when it jumped down. The price went up from there but never hit the 5% stop. Even though this technically was a winner – (our trading account got the 5% – its likely not all members fared as well.  Autotrade would have gotten this as a winner most likely, but a lot depended on the timing of the entry. We made our nickel but all self-directed members did not.
Here are the stats…
1200 EST entry 69.8X hit – 5.5% hit
300 EST entry 69.2X -69.3X – 69.37 would have been a hit of 5% —  if for some reason it did not execute – you would have closed at open for a small profit of .5%
330 EST Entry 68.8X did not hit 5% tp or SL — close postion at open for 1.4% miss
What we reported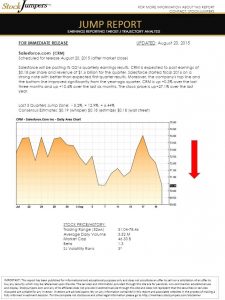 What really happened