Weekly Recap 3 Winners – 2 Losers. This we ended with a positive Jump Zone of 22% We never like getting trades wrong but it always good when we still come out on top.
Jump 1
GES we reported it as a BUY, It "whipsawed" up about 3% and down about  4%  fast and then hovered around the -3% till the next day where is shot up for 6.5%. We knew this would happen as we stated in our report "…trajectory reveals market anticipates good news and this seems to follow suit but not after a brief sell off (profit taking) …and then a rise from there to complete the 24 hour outcome." How it played out, this was almost a perfect call.
What we reported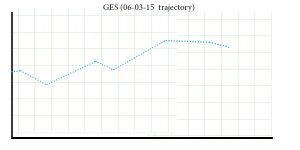 What really happened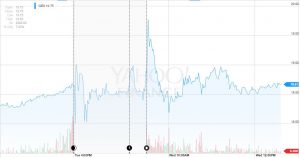 Jump 2
FIVE was a miss. We had it down and it did the opposite. We reported…"trajectory is a clear down move after what must be a disappointing quarter – even though there is potential for buying after the drop." This would have been a great play it was right, it rose to 5% fast without a retrace.
What we reported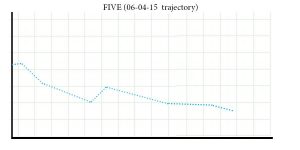 What really happened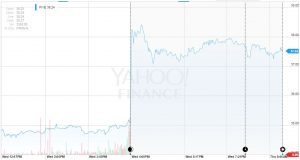 Jump 3
PAY was wimp, just as we thought. It shot up about 3% and then back down about 3% and then had a slow drop as the trade played out. We reported…"trajectory reveals PAY seems to keep pleasing, even though it may not be a huge jump out of the box, the market sentiment is favorable"
What we reported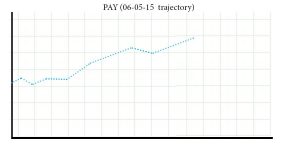 What really happened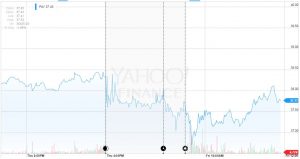 JUMP SNAPS
ASNA  we sent out a green up arrow, it "whipsawed" down about 4% and then right back up, this all took place very fast.  And then the true path took off as you can see which profited a Jump Zone of over 8.5%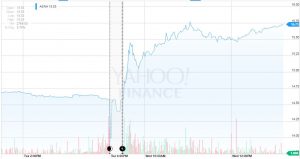 ZUMZ was a killer play! It dropped 15% just as we reported.  We sent out a red down arrow and the trade dropped as far as 20% and still seems to be falling.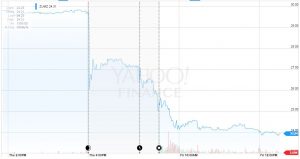 This week was roller coaster! Now let see what next week brings!